The many ministries of ServeTrust happen in Leena's hometown of Narasaraopet in the state of Andhra Pradesh, in southeast India, and in over 86 towns and rural villages, most within a 1-4 hours drive away.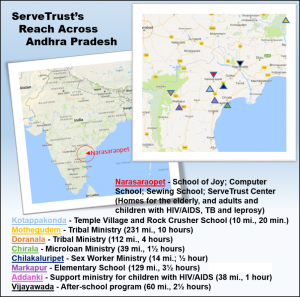 Narasaraopet – Leena's Home
Narasaraopet is Leena's hometown. She resides there as do her parents and her two sisters and their families. ServeTrust's office is located in Narasaraopet as are several of the ministries including the School of Joy, the Margaret Sewing School, the Computer School and the multi-ministry complex known as The ServeTrust Center.
Like most of India, Narasaraopet is a vibrant town, filled with an abundance of people and color. One is struck by the many sounds of the streets ranging from constant and loud horns honking, the slapping of laundry onto stones, people milling everywhere and even squawking birds. The streets are dusty and teaming with people, scooters, cycles, animals and rickshaws until late in the night.
Fact Sheet
Andhra Pradesh (A.P.) is the 8th largest of the 29 states in India. It occupies a long portion of the southeastern coast.
Narasaraopet is located 1 ½ hours inland in the middle of the state, in the Guntur District.  Also in this district is Amaravati, the new capital of Andhra Pradesh. Narasaraopet is 57km from Amaravati. It also lies 250km south east of Hyderabad, the capital of Andhra Pradesh until 2024.
The trip to Narasaraopet from Vijayawada (nearest airport) is a two hour drive.
The population of Narasaraopet (based on the 2011 Indian census) was 116,329.
The average literacy rate in A.P. is 67%, lower than the national average of 74%. Narasaraopet, being an education center, exceeds the state and national average with 79% literacy. (2011 census)
Male literacy in A.P. is  75% compared to female literacy of only 59%.
Telugu is the official language of the state, spoken by 88.5% of the population and is the third most spoken language in India. Numerous tribal languages are also spoken.
The major religious groups in the state are Hindus (91%), Muslims (7%) and Christians (1.4%).
Agriculture and livestock are the chief sources of income for the people of the state. (60%).
Rice, sugarcane, chili peppers, mangoes and tobacco are the local crops.
The climate is generally hot and humid reaching over 110°F on summer days between March and June.
July to September is the season for tropical rains.
November through February are the winter months and are considered the best times to visit. Temperatures peak in the high 80s.